CONTESTANTS SET NEW WORLD RECORDS
DURING WFD WORLD FINALS
AT
NAMM's 2007 WINTER SESSION!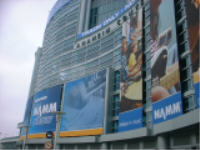 2007 NAMM Winter Session - Anaheim, CA
WFD is a highly charged, interactive phenomenon and has been a feature at NAMM for the past 5 years. The contest consisted of two categories, Battle of the Hands ™ and Battle of the Feet ™. The Preliminary Heats were held January 18th. through the 20th. The top ten Fastest Hands and top ten Fastest Feet then competed in a 'Finals Battle' of both categories commonly referred to as WFD World Finals ™, on Sunday, January 21st.
RECORDS ARE MEANT TO BE BROKEN! Spectators were treated to one of the most exciting WFD events to date as contestants set 6 NEW WORLD RECORDS! Mike 'Machine' Mallais's amazing foot speed enabled him to break 3 bass drum records! 'Machine' even slammed out a fiery 1,034 bass drums strokes in 60 completely annihilating Tim 'Silver Feet' Waterson's 6 year old 1,030 singles record! 'Machine' now holds the following WFD World Records:
1,034 single stroke in 60 seconds
4,595 single strokes in 5 minutes
13,309 single strokes in 15 minutes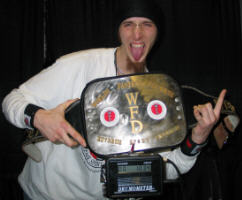 Mike 'Machine' Mallais
becomes the World's Fastest Feet!
60 Second Record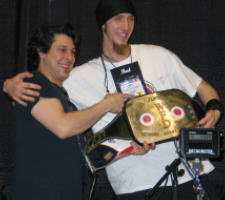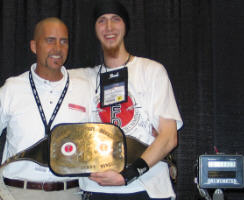 Mike Mangini with 'Machine' Tom Brumley of DrummerWorld.com with 'Machine'
5 minute endurance record 15 minute endurance record
The girls also threw down hard to set 3 new WFD World Records! At barely 14 years old, Caitlin 'Lead Foot' Kalafus set two new WFD World records. Caitlin became the youngest person to ever hold a WFD World Record when she beat out a blistering 799 singles on the bass drum and taking the WFD World Record 'Battle of the Feet' (female division). Not to be out done, Miss WFD and Mystery Hangup drummer, Lux, showed some serious speed when she took the WFD World Record for the 'Battle of the Hands' (female division) with a exhilarating 901 singles in 60!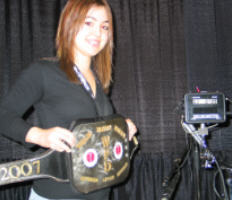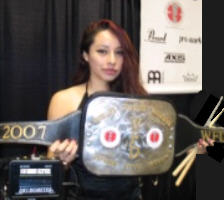 14 year old Caitlin Kalafus Mystery Hangup's Lux
WFD Champions Mike 'Da Man' Mangini, Tim 'The Missle' Yeung, and Matt 'The Kid' Smith gave 3 days of demonstrations plus tips on building your technique and preparing for WFD while doing interviews and signing autographs for the ever appreciative WFD grassroots fan base. The entire four days of WFD World Finals were covered by Thomas 'Dog Breath' Brumley for DrummerWorld.com.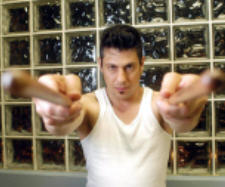 Mike Mangini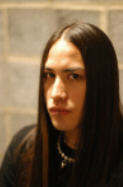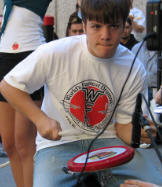 Tim Yeung Matt Smith
Although California was under a cold weather advisory from Governor Arnold 'The Terminator' Schwarzenegger, the state heated up as Blythe Schulte kicked off the show with a beautiful rendition of 'The Star Spangled Banner', presided by a scorching 15 minute set by WFD musical director Johnny 'Three Bomb' Rabb and Ten Finger Orchestra.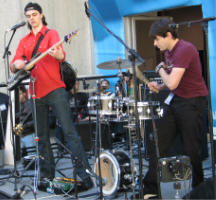 Johnny Rabb and Ten Finger Orchestra
Then the Battle began with the top 20 fastest drummers going head to head, foot to foot.
The winner of 'The Battle of the Hands' was Jeff 'Sneak Attack' Guthery with 1,054 strokes per minute. Second place went to Itlay's Merlini Riccardo (1,037) while third place went to Ikaika Pekelo (948). The Battle of the Feet title went to Canada's Mike 'Machine' Mallais with 978 strokes. Second place was Scott DeMartini (900) and third place went to Tyson Jupin (850).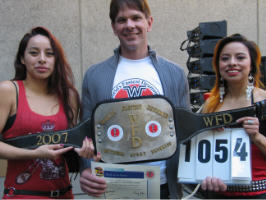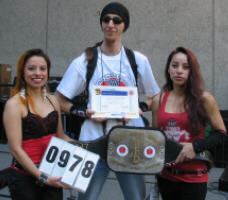 Jeff Guthery Mike Mallais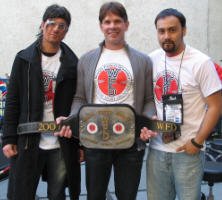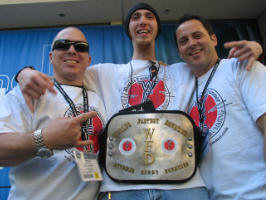 Merlini Riccardo, Jeff Guthery, Ikaika Pekelo Tyson Jupin, Mike Mallais, Scott DeMartini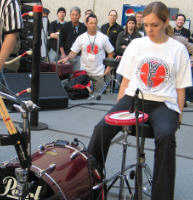 Julie Randall (L) and Brenda Chavelas (R) proved
the ladies can certainly hang with the men!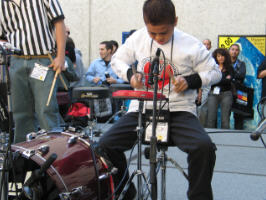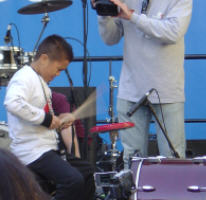 Hawaii's 10 year old Elias English amazed the crowed
when he played a beautifully clean 704 Singles!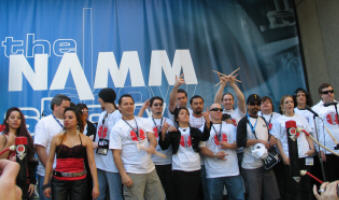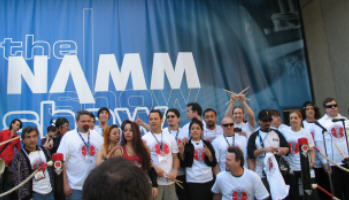 The contestants!
The World's Fastest Drummer contest was sponsored by THE MUSIC EDGE.COM
Over $12,000 in prizes provided by:







Grand Prizes awarded to the winners included two PEARL drum sets, two sets of MEINL cymbals, fifty REMO heads, a year's supply of PROMARK sticks (with the winner's name), Axis double pedal, educational gifts from ALFRED PUBLISHING, and much more…..