October 31, 2005
MICHIGAN CHAMPIONSHIP PRELIMINARIES REPORT!
WORLD'S FASTEST DRUMMER MICHIGAN CHAMPIONSHIP -
BATTLE OF THE HANDS AND FEET

Round 1 and 2 of Preliminaries/ Up to and including October 30, 2005.
Combined Scores of Bill Shaffer Drum Shop (Flushing), Mott Community College, Flint Battle of the Bands (10/08/05), Playford Music, Jackson MI (10/30/05)

WFD MICHIGAN STATE CHAMPIONSHIPS ARE SPONSORED BY MOTT COMMUNITY COLLEGE.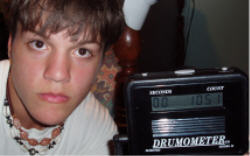 15 year old Matt Smith scores a remarkable
1051 hands score in exhibition this past Saturday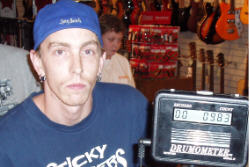 Greg Soule logs a jaw dropping 983 on fastest feet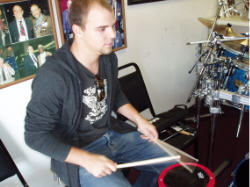 Tommy Gravelle currently leads adults with 881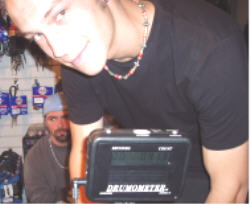 16 year old Kevin Klunk of Toledo, Ohio scored 913 on his first hands run before finishing with a superb 924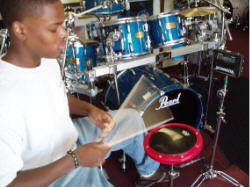 Brandon Donald of Holly scores impressive
874 at Schaffer's preliminary

Although WFD preliminary scores do not possess the
gravitas of final tallies, it is certainly fun to imagine.

By the time WFD Regional Preliminaries concluded in Jackson, Michigan, 67 very fast drummers had logged impressive runs in their quest to become Michigan State WFD Champion, during the month of October. But strangely only four contestants had logged scores in the Fastest Feet category. Still, one very special feet contestant may have been this month's biggest surprise. "Everything just started moving so smoothly," said Jackson resident Greg Soule, after he left competitors slack jawed after a remarkable 983 run in the Jackson Regional Preliminary, held at Playford Music. "It was one of the coolest things I saw all month," said WFD state coordinator, and Mott College Director of Instrumental Music Tom Smith. "He was in such a groove. But honestly I wondered if he could do it again and I told him so. With that said, you know everyone in South Central Michigan will be pulling for him. He certainly deserves it." Soule posted two more scores of 801 and 808, both of championship calibre in most WFD competitions, but nothing on the level of his mesmerizing first score. "Watching a guy get into the zone like that is so rare. But, I feel good that the score was legitimate. We had a good sensor and testing on the bass drum had been good," said Smith. "I sincerely hope he will do it again the finals. What a coup that would be for our contest." At present both Aaron Reinhardt of Flint and Eric Sabin of Jackson County remain strong competitors to Soule and all future competitors.

"I think the recent wave of local Matt Smith publicity has more people interested in the hands side of it," said Smith. "But I have always contended that our largest percentage of feet competitors will be from the Detroit area, and much of that issue should be decided at the Keith Carlock clinic, being staged at Huber-Breese Music, Tuesday, November 8 (the last free of charge preliminary). We also have some people coming in on November 12, who I think will be most impressive. Still, at this stage, the foot competition is wide open. But boy, you have to give it to Soule for what he did."

Hands scores certainly did not dissapoint in the final days of October preliminaries with 10 competitors logging scores of over 800. The best among them was 16 year old newcomer Steve Klunk of Toledo Ohio. Klunk rolled an astonishing 924, one stroke higher than last year's Anaheim World Champion Chazz Stanbach. "It's the WFD youth movement," said Mott College percussion instructor Jim Coviak. "You've got Matt out there doing his thing, and the current champion Randy Briggs is only 17. William Jones is only 15, and there were 13 year olds doing well in Jackson. Competitors will continue to get younger, rest assured."

Not waiting to be outdone by impressive recent newcomers Klunk (Playford/Jackson preliminaries), Tommy Gravelle and Brandon Donald (Schaffer Music preliminaries), Smith raised the bar for hands excellence in the Midwest, when he posted a phenomenal 1051 in 10/29/05 preliminaries based exhibition. "My parents are still debating if I should attend the NAMM World Championships, this January, in Anaheim. We will probably reach a final decision by Thanksgiving. This whole WFD experience has been great, but it would be nice to get it all over with in January, if possible," said Smith.


WORLD'S FASTEST DRUMMER MICHIGAN CHAMPIONSHIP BATTLES OF THE HANDS AND FEET/ represent number of single strokes rolled in 60 seconds.
Sponsored by Mott Community College Department of Music. Finals to be held at Mott Community College, Saturday, November 12, 2005
Remaining Preliminaries /12:00-2:00 pm every Saturday Bill Schaffer's Drum Shop, Flushing (until November 5)/Every Thursday (all day) Mott Community College, Mott Memorial Building (until November 3), Huber–Breese Music, Detroit, Tuesday, November 8, 4:00-6:00 pm/ FINAL WALK ON PRELIMINARY IS SATURDAY, NOVEMBER 12 AT MOTT COMMUNITY COLLEGE FROM 10:00-1:00 PM.

Event Exhibition Scores (cannot compete in competition)
Matt Smith (age 15) 1051 Flint/Grand Blanc (Schaffer exhibition October 28)
Jim Coviak 919 Mott Instructor/Official Michigan WFD referee.

OFFICIAL COMPETITORS
FASTEST HANDS (combined Senior and Junior Scores)
Steve Klunk (age 16) 924 Toledo, Ohio
William Jones 886 Flint
Tommy Gravelle 881 Gennesee County
Brandon Donald 874 Grand Blanc
Noah Richardson 869 Flint
Leroy Young 828 Gennesee County
Tony Felder 828 Jackson
Ben Schlatter 824 flint
Norvell Durson 806 Detroit
Jonathan Eisenberg 801 Flint
Jonathan Breene 796 Flint
Bruce Horn 789 Flint
Christopher Guess 784 Detroit
Eric Majeed 782 Flint
Greg Soule 771 Jackson
Aaron Reinhardt 759 Flint
Kyle Cherwinski 759 Montrose
Scotty Witte 744 Jackson
Daquan Irvin 739 Detroit
Mike Garza 735 Flint
Abraham Dorris Flint 735
Donovan Clay 730 Yipsilanti
Kim James 727 Detroit
Guy Champion 718
Dequantax Johnson 725 Pontiac
Lemarr Hunt 715 Pontiac
Dave Maguire 714
Daniel Brooks 714 Detroit
Sam Jenkins 711 Flint
Marcus Brown 710 Detroit
Aaron Martin-Greene 709 Flint
Queance Hill 705 Flint
Travis Peterson 704 Yipsilanti
Jason Powell 699 Flint
Darren Dyes 696 Flint
Blake Hendricks 694 Flint
Dominic Norris Flint 690
Codi Clements 689 Flint
Kimani Washington 685 Flint
Trevor William 683 Flint
Dominic Briggs 678 Flint
Nathan Green 675 Flint
Pedro Valdez (age 13) Jackson
Lakesha Dundee 676 Flint
Deandre Wilder 671 Flint
Michael Cox 669 Flint
Chuck Webber 662 Jackson
Stetson Bradford 654 Flint
Charles Long 638 Port Huron
Cody Williams Flint 634
Rajah Johnson 622 Flint
Leon Coats 621 Yipsilanti
Kenny Lowe 619 Jackson
Marjorie Lanehardt 611 Flint
Adam Lasota 602 Flushing
Laeh Al' Rifaiey 595 Flint
Karlen Jones 594 Flint
Sam Steve 589 Flint
Nathan Early 588 Jackson
Andy Bardallis 571 Jackson
Antanai Horton 547 Flint

FASTEST FEET
Greg Soule 983 Jackson
Aaron Reinhardt 773 Flint
Eric Sabin 727 Jackson County
Steve Klunk 685
---
WFD INVADES UK TV!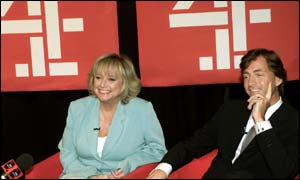 THE RICHARD & JUDY SHOW
WFD invaded UK TV on October 6 when drummers Terl Bryant (John Paul Jones) and Ed Freitas (DrummerBuzz.com) were the featured guest on the on BBC Channel 4's Richard & Judy Show.
In addition to drum solos and Terl doing a 919 run on the Drumometer, Richard and Judy also featured WFD's Speed Can Power Anything video! See video clips of the show at WFD TV!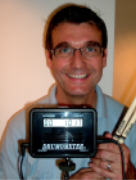 Terl hits 1,017
while backstage!
---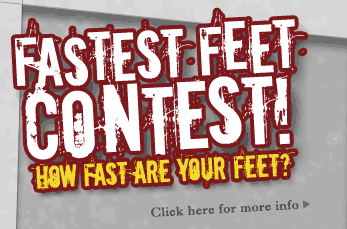 July 28, 2005
Tama is currently looking for the Fastest Feet at Ozzfest! See our friends at the Tama Booth in the Ozzfest Village of the Damned and see how fast you are!
Note this is for information only and is NOT a WFD event. Tama's Rules apply in place of the WFD contest rules.
---
July 25, 2005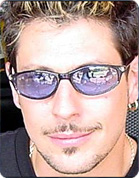 WFD Champ, Mike Mangini, is set to perform with Aerosmith's Steven Tyler and others at Key Largo's "Celebration Of The Sea." This world-class annual music and film festival is hosted by high profile celebrities to celebrate the public's love of all things related to the ocean.
Click here for more.
---
July 23, 2005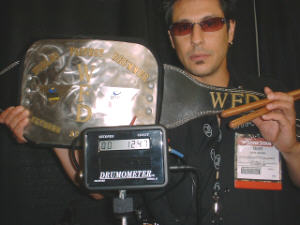 WFD Champ, Mike Mangini, set a new WFD World Record when he played an astounding 1,247 Singles in 60 Seconds. That's right! 1,247 Singles in 60! That breaks down to 20.78 strokes per second for an entire minute! Additionally, Mike set an endurance record of 13,222 with the feet for 15 minutes.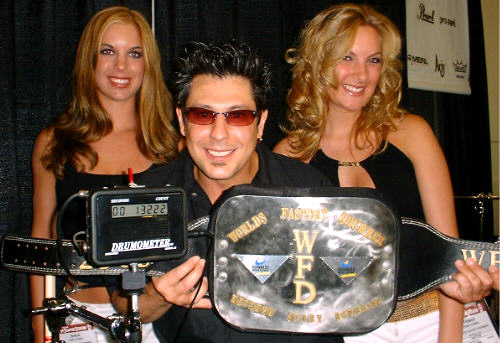 ---
July 15, 2005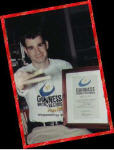 WFD Champ, Johnny Rabb, will be on tour this summer with Deana Carter.
---
July 12, 2005
WFD ANNOUNCES THE WINNERS OF THE MISS WFD INDY 2005 SEARCH!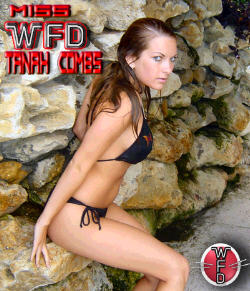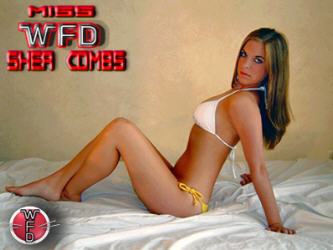 Congrats to the Combs sisters, Tanah and Shea on winning the Miss WFD Indy 2005 title. Tanah and Shea will be appearing with WFD at the 2005 Summer NAMM Session in Indianapolis.
---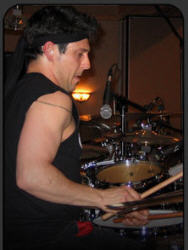 July 11, 2005
Congrats to WFD Champ, Mike Mangini, for his recent Pearl Reference Tour Clinics. Mike performed a clinic in Denver, CO to a standing room only crowd of 750 drummers! WOW! Now that's a LOT of drummers.
---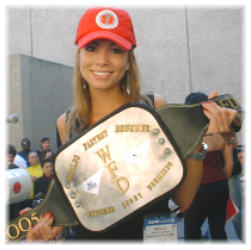 June 21, 2005
Congrats to Miss WFD, Shelley Burkard, for her upcoming movie appearances. Shelley will appear along with Justin Timberlake, Bruce Willis, Ben Foster, Sharon Stone, & Emile Hirsch in Alpha Dog,
and she will also appear in Lords of Dogtown as Johnny Knoxville's girlfriend!
Click here for more on Shelley's movie appearances...
---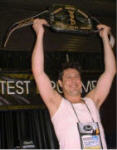 June 20, 2005
Mike Mangini will give a free drum clinic at 7:15 p.m. Wednesday, June 22, at SSE Music, 2609 George St., La Crosse. Doors open at 6:30 p.m. Click here for more...

---
June 15, 2005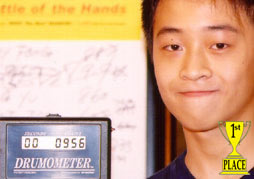 Hong Kong's Tom Lee Music was recently invaded by the WFD via The Music Edge's Fastest Drummer Program. Click here for more!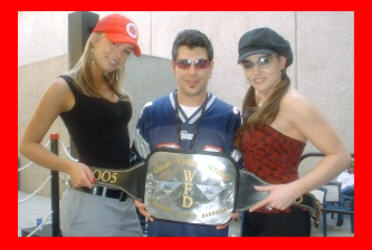 NAMM International continues it's quest to find the 'World's Fastest Drummer'. This highly charged Interactive Event is a feature at this year's Summer NAMM Show in Indianapolis, IN.
Click here for more!
---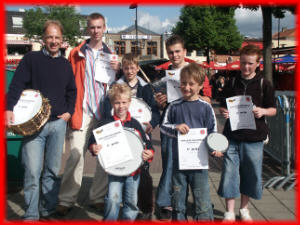 June 7, 2005
On June 4, 2005 Holland was invaded by the WFD. The event, hosted by Novae Drumschool Ede, was a huge success with winners in 3 different age catagories.
Click here for the results.
---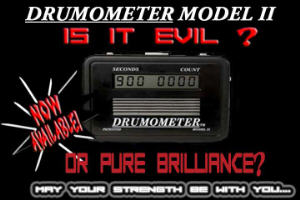 June 6, 2005
Drumometer Model II is now available.
Click here for more!
---
May 16, 2005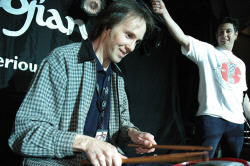 This past weekend was beyond exciting for everyone in the Musical community who attended The MusicStop's annual Show and Sale in Nova Scotia. Unprecedented crowds attended our Friday night clinic events, and Saturday was by far the busiest day we have ever seen at a May show. The World's Fastest Drummer (MusicEdge.com) event was won by Mike Mallais, with Jordi Comstock coming in close behind. World's Fastest Drummer, Mike Mangini, tag-teamed with Horacio Hernandez to put on one of the most impressive displays of technique and musicality that we have seen at a drum clinic. The standing room only crowd was knocked out by these guys, who were happy to share tips and techniques with everyone there. CLICK HERE FOR MORE!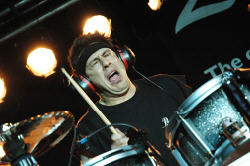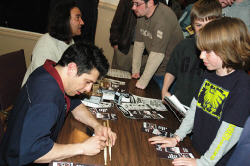 ---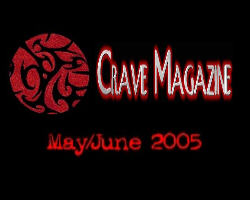 May 14, 2005
See what Crave Magazine says about WFD!
Click on logo for more...
---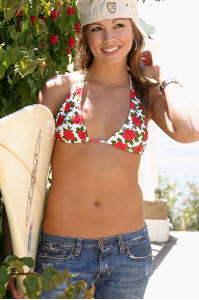 May 10, 2005
Congrats to Miss WFD, Shelley Burkard, for her new photos spread at


Click photo or above logo for more!

---
May 1, 2005
The Melbourne V-Drum Expo made its debut at the RMIT Union Theatre on Sunday and there was a great turn out of drum enthusiasts. Johnny Rabb of the US was there to perform and host the final for the Melbourne's Fastest drummer competition. The winner went to George Vich who managed an outstanding 1040 strokes in one minute. MORE...
---
April 5, 2005
Congrats to Miss WFD, Michelle Russo, for her new PetMeds.com commercial!
You can also download Michelle Russo wallpaper by clicking here.


---
April 19, 2005
The Rise of Speed Drumming and Copycat Organizations.
I've noticed other parties out there creating speed drumming events and organizations, and calling it their own. It's unfortunate because it's not only wrong ...MORE
NOTE: WFD only recognizes records set at Official WFD sanctioned events.
---

January 22, 2005
Congratulations to Mike Mangini on becoming the 1st man in history to play over 1,200 Single Strokes in 60 Seconds! ...MORE
---

The simple existence of the Guinness® Book of Records bears testament to mankind's fascination with the biggest, tallest, smallest and fastest in the world. We offer no explanation for this unexplainable interest, but we are proud to be able to bring World's Fastest Drummer® (WFD) to the UK. ...MORE
---