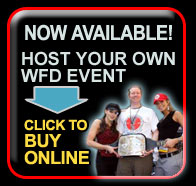 BASIC LICENSING KIT INFO:
Our Media-Friendly Program is set up to Create Excitement For:
Retailers, Schools, Special Events, Music Expos, Festivals,Storeowners, Fund Raisers and more.

WFD's energizing contests promote interest in drumming & promote skill development through the presentation of two in-store contests;

the Battle of the Hands™ and the Battle of the Feet™.

View WFD Event Kit Video: (Broadband /.wmv)



Legendary drum department manager Glenn Noyes talks about WFD Licensing kit


The WFD Contest Licensing Kit originated from the instant popularity of WFD
(World's Fastest Drummer®) a.k.a. "Extreme Sport Drumming®," a concept that has been a big
success since its introduction in 1999 by Nashville drummer & mad scientist Boo McAfee.
| | |
| --- | --- |
| | |
| WFD Champion! This Could Be You! | WFD Events Draw Instant Crowds |
The WFD Licensed Contests have received hot-topic coverage on
CNN, MTV, VH1, PBS, Fox Sports Net's XSTV, The Wayne Brady Show
and ESPN Cold Pizza, as well as at Guinness® World Records attractions,
**often providing free media attention for the WFD Contest Kit Licensees..
It was also a featured event at the 2002 Vans Warped Tour and Ozz Fest.
The events have been enjoyed by thousands of kids and adults, drummers and spectators alike.


WFD World's Fastest Drummer Licensing Kit:
Includes Drumometer Model II, Drum-O-Pad (triggered pad) with
WFD Official Logo Head, plus posters, ads, licensing of WFD logos, dvd, cd-rom,
guidebook and everything you may need to do WFD at your event.
Plus contact us to have your event featured in the page-header of WFDs web site!

Cost $300.00 plus shipping
Click Here To purchase
The WFD World's Fastest Drummer Licensing Kit
| | |
| --- | --- |
| | |
| Fun for Crowds as well as Contestants! | The 60 Second Drumometer Countdown |
LICENSING KIT INCLUDES FULL EQUIPMENT & INSTRUCTIONS:
A guide book, a CD-ROM containing printable materials, such as posters and other promotional aids, and a DVD explaining the program's features. In addition, the kit features a Drum-O-Pad with WFD Official Logo, bass drum trigger and the all-important Drumometer Model II, which records contestants' scores. The guide book provides the detailed instruction, walks you step-by-step through the "dos" and "don'ts" of coordinating and administering the program, and explains why these steps and techniques work. Licensees can also receive consultations with the event's creators to ensure successful contests.




WFD Licensing Kit Testimonials
"We got involved with World's Fastest Drummer Program from it's very
infant stages. We found it to be a very easy promotion because it drew not only
our regular clientele, but it also drew a lot of non-drummers as well.
Over the years, we saw the traffic grow to the point where we had to move the finals
into larger halls. A lot of people showed up including major celebrities. It was extremely
positive and turned into an entertainment type event that was real FUN for everybody!"



–Glenn Noyes, WLA/Guitar Center
"I knew all my hard work would one day pay off,
Give me that belt dude. Yea I'm the fastest!"
– WeeMan, JackAss the Movie and Vert Champ.
"I did it! I did it!"
-Rick Thorne, espn host and BMX Champ.
"Right now, I'm working on my clothing company: 'Famous Stars and Straps.'
Plus, hanging out with my two dogs - trying to make them really mean...
and beating the World's Fastest Drummer record."
–Travis Barker, Blink 182
"Baseball has 'home run hitting contests',
so we are having some seeing how fast we can go."
–WFD Champion Mike Mangini
"The World's Fastest Drummer competition
is unapologetically spectacular."
-DRUM! Magazine, Sept/Oct. 2003 issue
"This is the next level of drumming.
This is about speed, power and endurance."
-WFD Champion Tim Waterson
"One of the newest and most innovative forms of
extreme sports to arise in recent past is Speed Drumming.
It's turning heads everywhere, creating a huge buzz,
and spawning a whole new era of drummers."
-Crave Magazine, July issue
"I've been watching the Olympics and somebody said they are trying to get
extreme sport drumming in there as an event. If they do, man, I'm going for the gold."
-WFD Champion Jotan Afanador
"I've always had the imagination of drumming
being something like a sporting event. Almost like boxing."
–John Blackwell, Prince
"When you get to the 35 second to 40 second mark
you really start feeling it. You just try to hang on and not cramp up."
-Matt Garrett, Winner of The Music Edge
Fastest Drummer @ NAMM Winter Session 05
"Interesting, to see it when you take it to this almost 'athletic extreme'."
–Doane Perry, Jethro Tull
"Wow! That hurts!
Watching these guys is a little
bit 'creepy'. Much Respect! Much Respect!"
-Tom Arnold, Fox Sports host,
Best Damn Sports Show Period.