---
Hands Ranking For Florida
| | | |
| --- | --- | --- |
| Rank | Name | Score |
| 1. | Jotan Afanador | 1027 |
| 2 | Jason Bagwell | 978 |
| 3 | Bobby Welch | 827 |
| 4 | Rick Geiberger | 816 |
| 5 | Ron Byrd | 798 |
| 6 | Nick Rupert | 798 |
| 7 | Robert Fulton | 795 |
| 8 | David Castellano | 754 |
| 9 | Anthony Castellano | 665 |
| 10 | Josh Kaye | 663 |
| 11 | Josh Pepper | 588 |
| 12 | David Hines | 588 |
| 13 | Luke Self | score was dis-qualified for playing a buzz roll instead of single strokes |
Feet Rankings From Florida
| | | |
| --- | --- | --- |
| Rank | Name | Score |
| 1 | Jason Bagwell | 891 |
| 2 | Bobby Welch | 712 |
| 3 | Jason Merritt | 691 |
| 4 | Luke Self | 680 |
| 5 | Jotan Afanador | 674 |
| 6 | Anthony Castellano | 674 |
| 7 | David Hinds | 661 |
| 8 | Jason Williams | 609 |
| 9 | Bruce Longferd | 572 |
| 10 | Josh Kaye | 568 |
| 11 | Matt Wheeler | 517 |
| 12 | Caroline Kaye | 549 |
---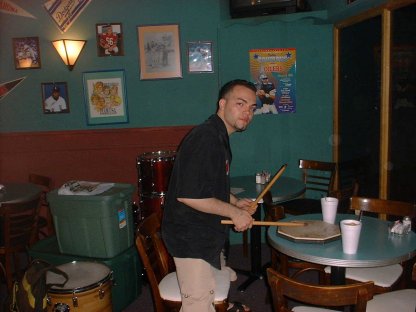 Contestant Jotan Afanador warms up for
the Battle of the Hands contest. Jotan travelled all
the way from New York to participate in the Extreme
Sport Drumming event!

---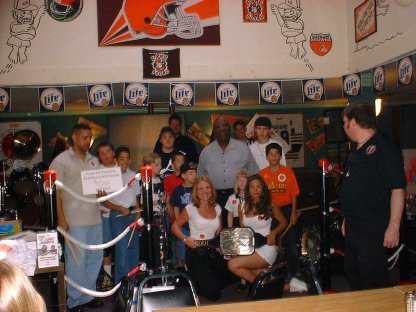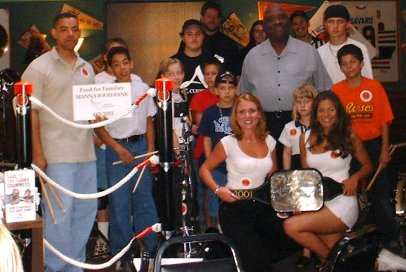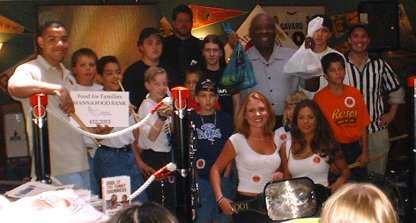 The WFD Extreme Sport Drumming event
was held as a Benefit for the Manna Food Bank. The
charity driven event provided contributions of canned
foods and cash to replenish Manna Food Bank!

---
Pensacola drum instructor, Ron Kaye, played an
interesting solo! Even Jabo noted that NOBODY plays
quite like Ron!!!
---
page2/
back