The Music Edge
Fastest Drummer Contest
2006 NAMM Winter Session - Anaheim, CA
"WORLD'S FASTEST DRUMMER TOO HOT!" SAYS FIRE MARSHAL
Anaheim, the home of Disneyland, is a city that is certainly no stranger to large crowds. As a huge swarm of spectators and fans gathered around the World's Fastest Drummer® preliminaries at NAMM, spilling into neighboring booths and totally clogging isles in every direction, an angry California Fire Marshal struggled to carve his way through the mob. As the marshal reached the front, he shouted "This is absolutely out of control, everyone must leave this area now!" WFD is a highly charged, interactive phenomenon and has been a feature at NAMM for the past 4 years. The contest consisted of two categories, Battle of the Hands ™ and Battle of the Feet ™. The Preliminary Heats were held January 19th. through the 21st. The top ten Fastest Hands and top ten Fastest Feet then competed in a 'Finals Battle' of both categories commonly referred to as WFD World Finals ™, on Sunday, January 22nd.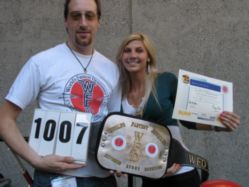 Battle of the Hands winner Battle of the Feet winner
Rees Bridges Tim 'The Missile' Yeung
This year's Finals event featured an incredible performance by WFD World Champion ™ and Musical Director, Johnny Rabb, as well as technical demonstrations, insight sessions and appearances by WFD Champions Art Verdi, Seth Davis, Jotan Afanador, Sam LeCompte, Randy Briggs and Tim Waterson. Additionally, WFD Champ, Glen Caruba set a new WFD Bare Hand Percussion Record. Glen played an astounding 1,140 Single Strokes in 60 seconds, establishing a new bare hand record category. The WFD family welcomed newcomer, sixteen-year old Matt Smith of Flint, Michigan who set two new WFD World Records. "Matt set the WFD 'Sixteen and Younger' World Record by turning in an unbelievable 1,061 single strokes in 60 seconds. Matt also became the youngest drummer in history to enter the 1,000 club" says Boo McAfee, co-founder of WFD Extreme Sport Drumming. "He's definitely one of the sport's brightest stars" added Craig Alan, co-founder of WFD Extreme Sport Drumming.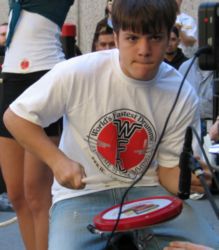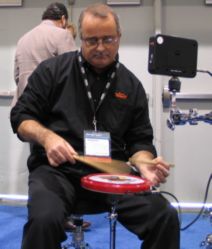 16 Year-Old Matt Smith World Drum Corps and
Pipe Band Champion
Jim Kilpatrick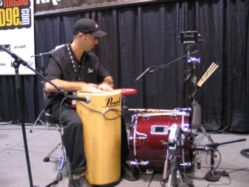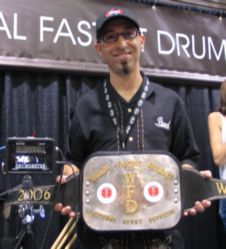 Glen Caruba

Celebrities visiting WFD this year included rock legend Bobby Rondinelli from Blue Oyster Cult, Black Sabbath and Rainbow, plus hard hitting Scott Travis of Judas Priest fame, World Drum Corps and Pipe Band Champion, Jim Kilpatrick, Jon 'Bermuda' Schwartz of Weird Al Yankovic, and YES! - that's Mr. Sammy Ash, of Sam Ash Music, taking some time out of his extremely hectic schedule to have a little wacky fun with WFD. Further, Wired magazine's Joshua Davis, who is a contributing editor and author of The Underdog, covered WFD for an upcoming story in Wired.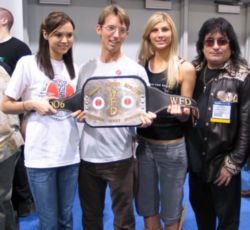 Joshua Davis and
Bobby Rondinelli
with Miss WFDs
Stephanie Ratcliff and
Sara Furman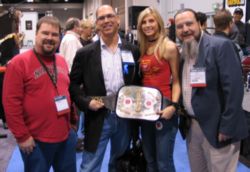 Craig Alan,
Sammy Ash,
Miss WFD Sara Furman,
& Boo McAfee
Keeping with the tradition of past WFD World Finals and other extreme sporting events, of course there had to be that huge-gaudy WFD Championship Belt and those two gorgeous Miss WFD models. In opposite corners, hailing from Los Angeles, CA were Miss WFD Stephanie Ratcliff and Miss WFD Sara Furman. Further, the crowd was treated to a special surprise when the eight-year old prodigy, Blythe Schulte, opened the World Finals with an amazing rendition of God Bless America.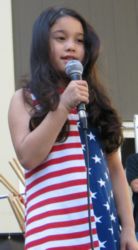 Blythe Schulte
The Battle of the Hands winner was Rees Bridges (Dirty Vegas) from London, England with a score of 1,007 Singles. Matt Smith placed second (1,002) while Lupe Valdiviez placed third (970). The Battle of the Feet winner was Tim 'The Missile' Yeung (Nile, Hate Eternal, Vital Remains) with a score of 872 Singles followed by Ramon Ochoa (820) and Troy Fullerton (817).
The World's Fastest Drummer Competition is sponsored by THE MUSIC EDGE.COM, NAMM's teen promotional initiative. Grand-Prizes for this year's contest included: two PEARL Drum-Sets, A year supply of PRO•MARK Drum Sticks (with Winner's name), two sets of MEINL Cymbals, AXIS Long-Board Double Pedal, two Trophy Stick Boxes from Tim Byrd of Timbyrwwod and Laser, and 50 REMO Drum Heads.
The next WFD World Finals is scheduled for NAMM Summer Session in Austin, TX in July 2006. For more information email Info@WorldsFastestDrummer.com
MORE COMING SOON INCLUDING PHOTOS OF ALL CONTESTANTS!