The Music Edge
Fastest Drummer Contest
2005 NAMM Winter Session - Anaheim, CA
I Highlights I
I Battle of the Hands Finals Rankings I Battle of the Feet Finals Rankings I
I Battle of the Hands Preliminary Rankings I Battle of the Feet Preliminary Rankings I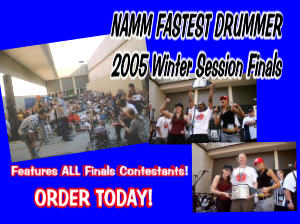 NAMM International continued its third annual quest to find the Worlds Fastest Drummer ®. This highly charged Interactive Event was featured at the 2005 NAMM Winter Session in Anaheim, CA. The contest consisted of two categories, Battle of the Hands ™ and Battle of the Feet ™. The Preliminary Heats were held in NAMM'S Exhibit HALL 'E' Thursday, January 20th until Saturday, January 22nd. The top ten Fastest Hands and top ten Fastest Feet then competed in a 'Finals Battle' of both categories held on NAMM'S main stage Sunday, January 23rd.
Included in this year's event were technical demonstrations, insight sessions and appearances by WFD Champions Mike Mangini, Johnny Rabb, Jotan Afanador, Art Verdi, Seth Davis, Sam LeCompte, and Tim Waterson.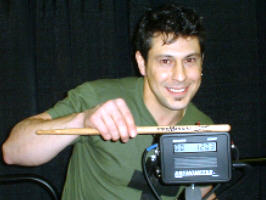 Additionally, Mike Mangini became the 1st man in history to break 1,200 when he played an astounding 1,203 Single Strokes in 60 Seconds and regained his title of World's Fastest Drummer® ! (YES! That's the NEW Model II Drumometer!)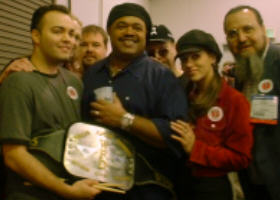 Further, a VERY SPECIAL GUEST appeared at the Preliminaries this year. That's right! It's the KING, Dennis Chambers, with the WFD Championship Belt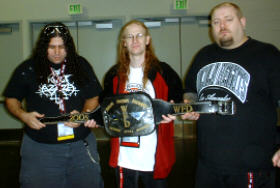 Tony Laureano and Nick Barker, the Fastest Feet in Metal visit Champ, Tim Waterson, and the WFD!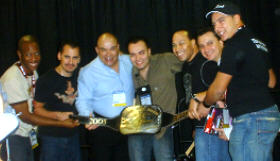 Some of the world's best percussionists visit WFD!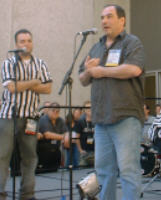 Jon 'Bermuda' Schwartz of The "Weird Al" Yankovic Band had this to say, "Each year, I'm pleased to see more drummers starting to grasp what WFD is about. They're seeing beyond the fun of the contest and the speed itself, to the incredible control and endurance that the competing drummers have mastered. Their technique is not so different than the efficiency of motion taught by gurus such as Moeller and Spivack, and the ability to measure one's progress on the meter makes it fun to work on control and endurance. And that's something that every drummer needs, regardless of the styles of music they play. If there are drummers out there who DON'T care about control and endurance, maybe they should find something else to do."
For the Finals, Chaz Stanbach of North Hollywood, CA won The Battle of the Hands™ with a score of 924 single strokes, while 2nd place went to Chad Patrick (896) and 3rd place was Jeff Sallee (893).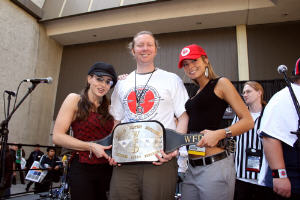 Winner of The Battle of the Feet™ contest went to Matt Garrett of Glendale, CA with a score of 888. Second place went to Ramone Ochoa (880) and third place went to Rhett Klagge (878). (Winner's photos courtesy of NAMM.)
The contest was sponsored by THE MUSIC EDGE.COM, NAMM's new teen promotional initiative. Additionally, the World Fastest Drummer Organization, along with the fine folks at NAMM International have launched a Fastest Drummer retail participation program called The Music Edge Fastest Drummer Program. This allows each NAMM retailer the opportunity to fully participate in this extremely exciting international event. The store's winner can advance to compete for over $12,000 in Grand Prizes!