2007 NAMM Summer Session - Austin, Texas



A Texas Style 'Shootout' at WFD Corral!
On its tenth outing to find the Worlds Fastest Drummer ®, NAMM International again featured this highly charged interactive phenomenon at NAMM Summer Session 2007 in Austin, Texas. The contest consisted of two categories, Battle of the Hands™ and Battle of the Feet™. The Preliminary Heats were held July 27th and 28th. Included in the event were technical demonstrations, insight sessions and appearances by WFD Champions and World Record Holders Johnny '3Bomb' Rabb (Deana Carter, Tanya Tucker, SheDaisy, Maynard Ferguson), Matt 'The Kid' Smith, and Mike 'Machine' Mallais.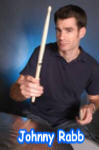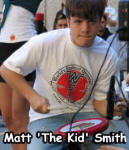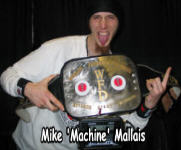 The top ten Fastest Hands and top ten Fastest Feet then stepped into battle at WFD World Finals, on Sunday, July 29th. Also appearing was the ever beautiful and talented Miss WFD 2007 Christine Johnson from Moncton, NB. Christine was crowned Miss WFD 2007 at the NAMM Winter Session in Anaheim, CA.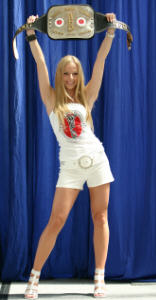 Christine Johnson
"This year's Finals were totally insane! We had contestants from all over the globe. One contestant flew some 20 hours from Italy. We saw the youngest group of competitors in WFD Extreme Sport Drumming history. We had a 7 year old hit 732 and a 16 year old hit an astounding 1194. It was the 'shoot out' I envisioned some 32 years ago, especially with the influx of teenagers and high scores we are now seeing," said Boo McAfee, co-founder of WFD.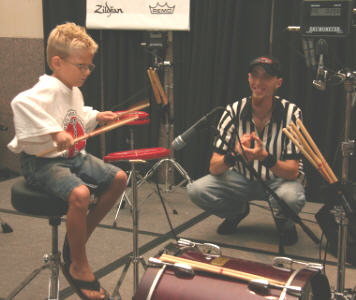 Clayton Felty
WFD 7 year old WFD Record Holder (732)
The Battle of the Hands winner was 16 year old Thomas 'Tommy Gun' Grosset of Canada with the highest score ever recorded during WFD competition of 1,156 Singles. Daniel Rice placed second (1,039), while Riccardo Merlini of Italy placed third (1,013). The Battle of the Feet winner was Matt McKasty with a score of 907 Singles, followed by Joe Gonzalez (844), and Kevin Bernardy (834).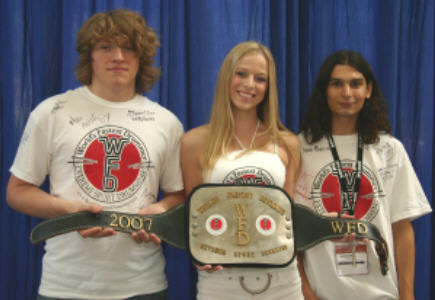 Thomas Grosset (L) Miss WFD (C) and Matt McKasty (R)
Four new WFD World Records were set. Thomas 'Tommy Gun' Grosset blazed an 1196 during preliminaries making him the new WFD 16 and under World Record Holder plus ranking him third in the world. WFD Champion Matt 'The Kid' Smith set an astonishing WFD 5 Minute World Endurance Record of 5132. Clayton 'The Slammer' Felty became the 7 year old WFD Record Holder with 713. Michael 'big stick' Lowe set a WFD 'Giant Sticks' record of 111 Singles in 10 seconds.
Over $12,000 in prizes were provided by Pearl, Zildjian, Remo, Axis, ProMark, Power Wrist Builders, Alfred Publishing, Kelly Shu and Drumometer.
The World's Fastest Drummer contest is sponsored by THE MUSIC EDGE.COM, NAMM's teen promotional initiative. For more information on WFD and upcoming events please email Info@WorldsFastestDrummer.com